Best Leveling Kit for Ram 2500 – Level Your Ram 2500 with the Best
Find and Equip the Best Leveling Kits for Ram 2500
One common issue that we see with pickup trucks again and again is uneven suspension. While this problem won't negatively effect your truck's performance too much, it certainly can be an eyesore. Thankfully, the issue is not difficult to fix. All you need is an aftermarket leveling lift kit, and we've put together this guide to help you find the perfect one for your truck. Combing through these accessories can sometimes be a pain, especially because you have to make sure to match up the make, model, model year and truck bed length for each product. On top of that, you also have to determine how much of a lift you need. Because of all that, we've gone to the liberty of preparing a list featuring the best leveling it for Ram 2500 trucks.
Below on our list, you'll find 10 products that fit on the Ram 2500. Be sure to pay attention to the compatibility to make sure it's a match for your truck. Additionally, check out our short buying guide following our list for a few more tips before you go. Happy shopping, and we hope you enjoy!
---
1. Rough Country 2.5″ Leveling Kit (ASIN – B074QVL6FC)
Compatibility: 2014-2020 Ram 2500 4WD
Our pick for the top spacers for Ram 2500 trucks comes from Rough Country, one of the most popular accessory and aftermarket part manufacturers on the market. Rough Country are masters when it comes to affordable at-home lift kits. While these kits won't match the higher-end kits, those can get up into the thousands-of-dollars range. If you simply need a new setup to raise up your front end by 2.5 inches, this is the kit for you. It fits on newer Ram 2500 outfitted with four-wheel drive, and features a lifetime replacement warranty that should leave you feeling reassured.
Rough Country 2.5″ Level Spacers (fits) 2014-2020 Ram Truck 2500 3500 4WD | Suspension System | 377
---
2. Supreme Suspension 2.5″ Front Leveling Kit (ASIN – B0186HKNV4)
Compatibility: 2014-2020 Ram 2500 4WD
Our next product comes from another popular manufacturer, Supreme Suspensions. Once again, it is a 2.5 inch pair of spacers for newer model Ram 2500 trucks. If you are looking for the best option out there for Ram 2500 trucks but aren't a fan of Rough Country for whatever reason, this is the next option we recommend. The kit includes a pair of high-strength steel spring spacers, as well as shock relocation brackets and all the other hardware you'll need for installation. After a few hours, the suspension on your beloved truck will be looking even better than it did when you drove it off the lot.
Supreme Suspensions – Front Leveling Spacers for Ram 2500 3500 4WD 2.5″ Front Lift Kit High-Strength Steel Spring Spacers + Shock Mounts Relocation Brackets
---
3. Bilstein 2″ Front Suspension Leveling Kit (ASIN – B0721PPDMR)
Compatibility: 2014-2020 Ram 2500 4WD
At number three, we bring you the first and only option on our list from Bilstein. The spacers in this kit offer two inches of lift, and feature a bit more quality than many other options of this style. However, along with that, you'll find an increase in both the price and difficulty of your install. However, if you don't mind raising your budget and you've got the know-how (or a friend who does), this could be an excellent candidate to even out the height of your truck. Customers have many good things to say about this product, including not only retaining the ride quality but an improvement after installing! We think you'll love this option.
Bilstein 46-268655 B8 5112 Suspension Leveling Kit Front 2 in. Lift B8 5112 Suspension Leveling Kit
---
4. Rugged Off Road 2-103 1.75″ Front Leveling Kit (ASIN – B075XP48F4)
Compatibility: 2014-2020 Ram 2500 4WD
One of the more pared-down options on our list comes from Rugged Off Road, and is great for those who only need a slight 1.75-inch boost to their front end. This kit is simply a pair of spacers, and it's a quick and easy yet reliable fix for your suspension. It should only take a couple of hours to get these spacers installed, and you'll see a solid boost to your front end that should make your truck a sight for sore eyes. Despite its impressive price, customers have plenty of good things to say about this set. That's always a plus in our book.
Rugged Off Road 2-103 1.75″ Front Level Spacers, Regular
---
5. Dynofit 3″ Front Leveling Kit (ASIN – B07VYPHF3X)
Compatibility: 1994-2013 Ram 2500 4WD
Have none of the kits so far cut it for what you need? How about this larger three-inch lift kit from Dynofit? Specifically, this kit is made for older Ram 2500 trucks, from 1994 all the way through 2013. Four-wheel drive only, however! It will raise up that front end and make it level without negatively effecting your vehicle performance. This is another reliable choice as the best lift kit for Ram 2500 drivers. Pick it up today!
3″ Front Leveling Lift Kits for 4WD Dodge Ram 1500 1994-2001,1994-2013 Ram 2500,1994-2012 Ram 3500, (Set of 2) 3 Inch Solid Steel Struct Spacers for 4×4 BR/BE/DR/DH/DS/DJ Pick Up
---
6. Tuff Country 2″ Front Leveling Kit (ASIN – B00GD38VE0)
Compatibility: 2014-2020 Ram 2500 4WD
While their name is a bit of a rip-off of the more popular Rough Country, that doesn't mean there's anything wrong with Tuff Country's products. If you have a Ram 2500 with four-wheel drive from 2014 or onward, and need a solid two inches of lift to your front end, this is the kit for you. Once again, it's a basic but effective kit, and should be able to be installed in about two hours. There's no intensive drilling required, and you can rely on these spacers to stand up against the test of time.
Tuff Country 32909 Level Spacers 2 in. Lift
---
7. Supreme Suspensions 2.5″ Front Leveling Kit (ASIN – B01MXUZZD7)
Compatibility: 1994-2013 Ram 2500 4WD
Next up, we have another set of spacers from Supreme Suspensions. However, this time they are intended to be used on the older model 2500 trucks. They still provide the same quality of the excellent newer kit, but will fit on your retro pickup. Whether you're replacing an older kit that's been worn down, or installing one for the first time, this is a fantastic way to go.
Supreme Suspensions – 2.5″ Front Level Spacers for 1994-2013 Dodge Ram 2500 3500 and 1994-2001 Dodge Ram 1500 High-Strength Steel Spring Spacers Lift Kit 4WD
---
8. Freedom OffRoad 3″ Front Leveling Kit (ASIN – B07M63YPY6)
Compatibility: 1994-2013 Ram 2500 4WD
With these next spacers, also made for older model trucks, you'll find reliable carbon steel construction. That alone might be enough to earn it a spot on our list, but it's also one of the more highly-rated products according to customers online. Installation should not be very difficult here, and due to its reliable design you can bet on it lasting for many years. Feel confident picking up this set from Freedom OffRoad today.
Freedom OffRoad 3.0" Front Lift Level Spacers RAM 1500 2500 3500 4WD
---
9. Daystar 1.5″ Leveling Kit (ASIN – B001GH1LWM)
Compatibility: 1994-2013 Ram 2500 2WD
Daystar is another popular manufacturer of parts and accessories, and their mid-size leveling kit is great for older 2WD Ram 2500 trucks. These spacers are constructed from high-density polyurethane, making them resistant to rust and other forms of corrosion. The process of installing the spacers will once again be pretty easy here, and shouldn't take more than a few hours of your time. Within no time, you'll have an impressive new look for your heavy-duty truck.
Daystar, Dodge Ram 1.5″ Level Spacers, fits 1994 to 2013 1500/2500/3500 2WD, all transmissions, all cabs KC09103BK, Made in America, Black
---
10. StreetDirtTrack 2″ Front Leveling Kit (ASIN – B01MS9R0BR)
Compatibility: 1994-2013 Ram 2500 4WD
We've got one final option available for you to level your Ram 2500, this time from StreetDirtTrack. It covers nearly 20 years of Ram 2500 trucks, from 1994 through 2013. Four-wheel drive models only, however. If your truck fits that range, and you need a reliable two inches of lift to your front end, you can go ahead and pick this kit out without worry. SDT is a reliable and popular manufacturer, and this product is an excellent example of what they're capable of. It is simple but effective, and can have a great effect on the look of your car.
Fits Dodge Ram 1500 2500 3500 2″ Front Leveling Lift Kit 4WD -Street Dirt Track- Steel Front Lift Spacers
---
Bonus: Skyjacker 2-2.5″ Front Coil Springs with M95 Performance Shocks
Compatibility: 2013-2019 2500/3500
Before you go, we've decided to add a couple of new additions to our list, each one offering something a little different than what you've seen so far. First, it's a set of high-quality coil springs, which act as an alternative to the less-expensive spacers. While spacers can often get the job done, they won't offer the same level of performance as a good set of coil springs. This option from Skyjacker is one of the first we'd recommend. It'll raise up the vehicle by between 2 and 2.5 inches in the front, and comes with a set of powerful shocks that will help you stay steady and safe across all terrain types. Skyjacker is known for their suspension lifts and coil springs, and you can't go wrong if you install these in your truck. You'll still maintain great ride quality, and have an amazing new look for the vehicle at the same time. There's a lot to love about these coil springs, and they definitely deserve a mention on our list.
Skyjacker Front Coil Springs w/ M95 Performance Shocks | R25-M
---
Bonus: ReadyLift 69-1231 3″Front / 1″Rear SST Lift Spacers
Compatibility: 2500 4WD 2014-2018
With these front and rear spacers measuring out at different heights, you'll be able to raise your vehicle and even it out at the same time. ReadyLift is one of the most reliable companies to count on for spacers and suspension lift systems, and that includes this set. It has excellent customer reviews, and includes a set of shock extenders along with all the hardware you'll need to install. While not the cheapest set of spacers out there, you're getting a lot of bang for your buck if you choose this configuration. The process of installing these spacers isn't exactly easy, but those who have experience in working on your truck at home shouldn't have too much trouble. For all those reasons, we think you should strongly consider installing this system on your truck if you're looking for a nice, even lift.
ReadyLift 69-1231 3″F / 1″R SST Lift Spacers
---
Best Leveling Kit for Ram 2500

Buying Guide
Were you able to pick out a set of spacers or blocks that fits your truck? We hope so! However, there are tons of varieties out there, so there's a chance you may need to keep looking. If that is the case, we hope you'll let us leave you with a few more tips to take with you! Start with our Factors of Focus section. It'll offer some advice on finding the right lift kit for your Ram 2500 truck, as well as navigating the many options out there these days.
After that, we'll start to get into some of the things you can run into when it comes time to install. If you prepare ahead of time and take notice of our advice, you should have a much easier time getting your lift kit on. We will then wrap up by telling you more about what we do at Ultimate Rides on a daily basis. We think you're going to like what you hear, especially if you plan on buying a new vehicle anytime in the foreseeable future. Take a look and let us know if we can assist you!
Factors of Focus: Tips for Choosing a
Leveling Kit
The first thing to do when shopping for a lift kit is narrow down options to your specific vehicle. If you're here, you must drive a Ram 2500. Even from there, there are more factors to narrow down your choices. Lift and leveling kits are designed for certain model years, and even can be affected by different configurations such as 2WD or 4WD. Make sure to pay close attention to the product notes before buying to ensure it fits your truck.
From there, you'll need to think about how high you need the new setup to go. Measure the height from the ground to your bumper in both the front and rear. Make sure you're on level ground when doing this. Find the difference between those two measurements and that will inform what size lift kit you want!
Then it's time to think about quality. There's a variety of different kinds of lift kits available to drivers. Some alter the suspension of your vehicle, and these are usually higher quality. Others use a set of blocks or spacers to raise up the body. These are more affordable and get the job done, but can sometimes have an effect on your drive quality.
The most important thing is to do your research. Know what you want before you start searching. Take your time and don't rush things. IF you follow our advice, we believe you'll be able to find an excellent leveling kit for your truck.
Level Kit Installation: What to Do
After You Buy
Once you figure out what spacers or blocks to buy, the hard part isn't yet over. Installing a leveling kit could be simple, or it may be a real pain. This depends on a few different factors, such as your experience level and the tools available. Some of these setups are more complex than others as well when it comes time to install. We encourage you to think long and hard about whether you're going to install your own spacers, or rely on professional assistance.
If you do end up installing the new setup on your own, we hope you'll look through the advice we've left down below. Our team has been doing this a long time, and we feel the least we can do is offer up some information that may be helpful to you.
Always have a steering alignment after installing a lift kit. It may not be apparent right away, but adjusting your suspension can have a serious effect on your steering column. It's highly recommended to take your truck in for an alignment any time you install or uninstall a lift kit.
Check out video tutorials online for help with the install process. If this is your first time installing a lift kit of any kind, it's important to do a bit of research before you begin. If you feel confident that you can complete the job on your own, we still recommend watching a video or two. It'll help you with the process, and can prevent costly mistakes.
Be sure to double check the compatibility of a leveling kit before you buy. The products aren't always clearly labeled on which vehicles they work for, so you may have to do some extra research on your own if you're buying a product not on our list of the top choices available.
Ultimate Rides Offers Custom Vehicles with Nationwide Shipping
and More
If you decide you might need professional assistance with your leveling kit installation, remember us at Ultimate Rides. We do much more than just write up guides on helping you choose a kit. We are a custom auto dealer that also has our own service center on-site. We have a staff of technicians that specialize in customizing vehicles. Take a look at our inventory and see what we mean.
Each of our vehicles is available with shipping across the country. You'll even be able to include delivery costs in your financing plan. This should make it affordable for many more drivers. You can also customize any vehicle further before we send it out. Contact our team and let us know what upgrades or changes you're looking for. Once again, you can include this work in your financing deal. Call our office if this sounds interesting to you and you would like to get started!
Those of you living in the Chicago area are lucky enough to be in our own backyard. You can come visit us and we'll be happy to show off our vehicles in-person.
There you have it! We hope you have a smooth experience installing your leveling kit. If you think you might need some assistance, don't be afraid to reach out for professional help! Ultimate Rides is located at 815 S. Division St., Coal City, IL 60416. You can contact us by calling 815-634-3900.
Frequently Asked Questions
Before you leave, we wanted to take the time to answer some of the more common questions we hear from both customers as well as readers of our website. With our expertise, it's no surprise that so many people want to run their thoughts by us. If you see your question below, you may be able to save yourself plenty of time and effort. Take a look, and don't be shy about getting in touch with our team if we aren't able to help you out here.
Q: What is the difference between a leveling kit and a standard lift kit?
A: Before getting into buying a set of front spacers, it's important to explain what a standard lift kit is. There are many different varieties so they work in different ways, but lift kits are sets of (usually aftermarket) parts that you install on a vehicle to raise up its height. Some use blocks or spacers to raise the body only, while others can alter the vehicle's suspension to lift it up with a higher quality ride. A leveling kit is a specific type of lift kit. They're usually only applied to one side of the vehicle, where there is a sag in the suspension. Sometimes, there are leveling kits that raise both ends, but will lift up one end higher to compensate for the difference.
Have you noticed a pickup truck with a significant sag in the front end? This is extremely common, and a good pair of spacers is the most direct fix. If you're here reading our guide, you're in the right place to find a quality leveling setup for your Ram 2500 truck.
Q: What are the greatest or most popular truck accessories?
A: Lift and leveling kits can be a great choice, but these certainly aren't the only options available to you. Depending on what you drive, you may want to look into an F150 bed cover to protect your vehicle, or may a new set of off-road wheels to take your adventures to a different level. At Ultimate Rides, we know a lot about accessories. When you buy one of our vehicles, we'll be more than happy to set it up with whatever you'd like. We can even offer recommendations of our own if you're not sure where to start, so get in touch!
Q: How much does leveling kit installation cost?
A: That all depends upon what kit you choose, what you drive, and where you go for your install. As with any kind of custom upgrade, you must balance cost with quality. Sometimes if you want the best around to be working on your vehicle, you'll have to pay extra for it. However, these extra costs could pale in comparison to repairs necessary from an accident due to a bad install job.
We can't provide you with specific price numbers without knowing what we're working with. To learn about how much this process can cost, reach out to the Ultimate Rides team over the phone. We'll be more than happy to provide you with additional details on leveling kits, lift kits, and so much more.
---
Two Brothers With a Dream

,

Building The Best Ultimate Rides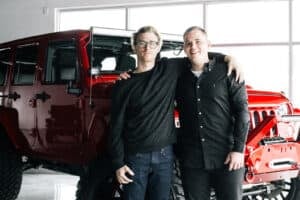 Ultimate Rides consists of two brothers who have been buying and selling custom vehicles for over ten years. Selling lifted trucks by day and writing these awesome reviews by night! They started their Ultimate Rides journey with a third brother Jake, who was a big part of building the business they have today. In 2016 Jake passed away and losing their brother was the hardest thing they ever had to deal with. Even though they had a tragic loss they plan to continue to set a new trend for the auto industry, keeping customers number one. Pushing the envelope on the lifted truck market, these guys love researching and learning about everything in the auto industry!
 — Nick and Alex Bulanda, Founders of Ultimate Rides